IT outsourcing Latin America style is exciting because you get to scale your company and create products and features faster, all while being in cultural, temporal, and spatial proximity with your software engineering teams.
Latin America, or LatAm for short, is home to talented software engineers that use the latest tech and best practices. At Bridge, we know the job markets in Argentina and Mexico since we partner directly with local recruiters. So in this article, we'll share what we've learned about the region and how it has developed into a global outsourcing leader.
First, let's do a quick recap of what outsourcing is and what's the scoop on it.
What is outsourcing?
Many people think they know what outsourcing is. But, unfortunately, it's often used as a blanket term for sending jobs overseas, and rarely do you ever hear anything positive about it. We'd like to change that.
First, let's learn what outsourcing is and why it gets such a bad rap.
Outsourcing is buying goods or services from outside sources (for example, companies, countries). The first time the term was used was back in the late '70s. However, outsourcing started growing at an incredible uptick in the '90s and '00s and has continued to grow to this day.
Today, we recognize three main types of outsourcing:
Onshoring (outsourcing within your country) — is when you hire an individual or company located in the same country as you, who may be under contract but is not technically part of your organization.
Offshoring (outsourcing outside your country) — is what most people refer to when they mention outsourcing. You can offshore specialists both near and far from your country's headquarters.
Nearshoring — Offshore outsourcing to countries close to yours (usually neighboring countries or countries within the same continent/time zone).
Farshoring — You probably get the idea here. Farshoring to countries outside of your local group of countries.
The Bridge Teams Approach (direct-hiring abroad) — Bridge Teams allows you to direct-hire software engineers and set up offices abroad. Each hired team member works in your organization.
What differs Bridge's approach from alternatives is that we're helping companies to employ remote Senior-level experts that will become a full-fledged part of the team. What's more important — our clients remain the final decision-makers and approve each candidate to join the team. If that sounds like something you're looking for, feel free to learn more about our services
That's great, so what's the better choice for a tech company?
Outsourcing's role in tech
Here are some harsh, yet honest facts about outsourcing. First — companies choose to outsource to cut costs. And another uncomfortable truth is that many projects face delayed budgets and subsequently go over budget because of poor outsourcing services.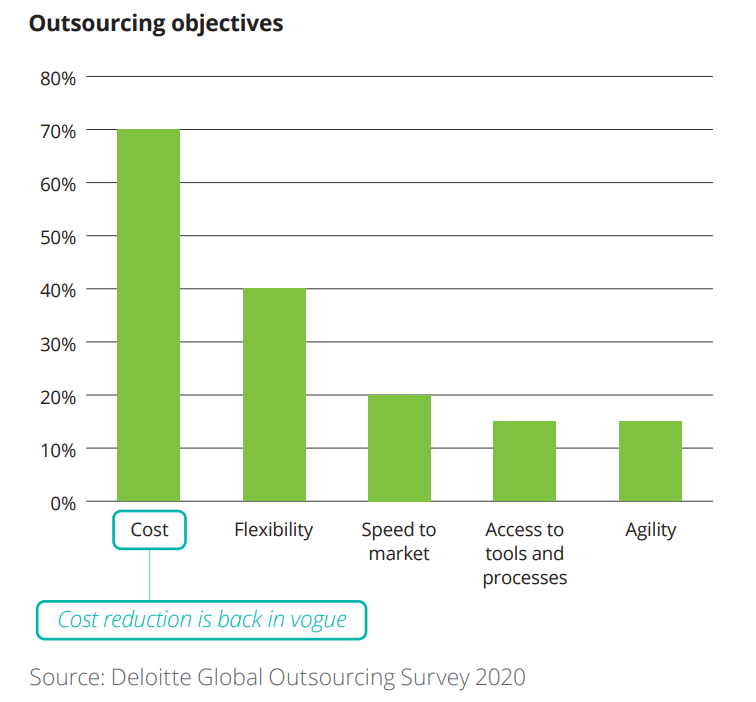 As you can see on the graph above, cost reduction was the number one driving factor for outsourcing in 2020. Agility had the top spot in the 2018 survey, but in 2020 has been put slightly further back on the list of objectives. That's because when the pandemic ravaged the US, business owners had to make important decisions to reduce costs and simultaneously make certain changes.
The problem with offshore/onshore outsourcing is that your business's financial stability depends on another company. And as people in the tech world know, having many external dependencies can have dire consequences.
While we applaud Deloitte's respondents for calculating costs and trying to reduce them, we'd love to ask them if they're happy with the outsourcing vendor they chose. We feel that the only way to have full control of your project and a dedicated team to build it, is to hire directly. In other words, onboard team members and not a 3rd-party vendor.
Now, let's dive into the advantages you'll get when outsourcing software development to Latin America.
Why hire software engineers in Latin America? 10 major advantages
When we first got the idea to start Bridge, we sent out feelers to potential clients in the US for validation and insights into what problems tech companies have with hiring talent. We explained our idea for remote-hiring-engineers-as-a-service and told them about the Eastern European talent pool.
Overall, we heard positive feedback across the board except for one detail – clients wanted talented team members closer to their headquarters. That's when we started looking at Latin America, specifically Mexico and Argentina. Our approach was two-fold — partnering with talent agencies and recruiters, and talking with experienced software engineers to learn about IT outsourcing in LatAm.
To begin with, we looked at what comprises LatAm. There are technically 20 countries in LatAm, each with an IT community, but talent-wise, Brazil, Mexico, and Argentina hold the top spots. And that's not a surprise because the three biggest tech cities in LatAm match up perfectly — São Paulo (Brazil) Mexico City (Mexico) and Buenos Aires (Argentina).
The next steps were to analyze the tech scene, speak with software engineers from the countries mentioned, and find recruiting partners who have their fingers on the pulse of the local job markets.
Through research and collaboration, we identified 10 major advantages to hiring and outsourcing software engineers in LatAm.
#1 Talent
You don't have to look at surveys or university ratings to understand that LatAm is full of talented individuals. For example, Google, Microsoft, Intel, Lyft, and Stripe have offices in Mexico. And Salesforce, Oracle, IBM, and again, Google, have offices in Argentina. Not to mention the dozens of startups and established companies with offices across LatAm.
Each country has a large stake in outsourcing because the region is considered nearshore to the US/Canada. That's why IT outsourcing in Mexico and other countries is the first rung on the ladder of many careers in IT. And that's not a bad thing. Engineers that come out of outsourcing companies know English well and have likely worked with US companies.
US Tech Companies That Have R&D Offices in Mexico (Google, Apple, Intel and more!)
What we see now is a growth in demand for remote talent amidst a growing tech talent gap. So companies in the US are adapting their no-foreign-worker policies to make way for changes. Because now that everyone knows LatAm produces talented individuals and unicorn startups, the race is on to find and hire talent.
Speaking of unicorn startups, we were in awe at the number of unicorns and soon-to-be-unicorns originating in LatAm.
#2 Time zone
To work well outside of your local time zone, your team members must adapt to working asynchronously. And sometimes that's not possible, and asynchronous work isn't for everyone. In this case, it's logical to look for talent that's nearshore.
Mexico's three biggest tech cities: Mexico City, Guadalajara, and Monterrey, are in the same time zone, which is only two hours ahead of Silicon Valley and one hour behind New York. Brazil is second-closest to the Pacific Time Zone with a 4-hour difference, while Argentina is five hours ahead of Silicon Valley and only two ahead of New York.
Working with nearshore teams is still considered asynchronous work unless you shift your remote teams' working hours. However, it offers an overlap of live communication, which can be invaluable. As we'll see later, being nearshore also offers the opportunity to have your LatAm team visit your US team or vice versa without even inducing jetlag.
#3 Cost-effective
Hiring competent workers in LatAm can cost 2-3x less than hiring in the US, UK, EU and Australia/New Zealand. But to reiterate from the previous section, if you go with a software vendor or agency, there may be more risks, especially to your timeline and budget.
4 Reasons Why You Should Hire Software Engineers in Argentina
To be cost-effective while reducing risk, hire directly. You get more engagement, more productivity, and happier employees. You also get the freedom to invest the saved money into other projects..
If you want an idea of how salaries compare globally, check out our Developer Salary series.
#4 Growing outsourcing market
The global outsourcing market is set to reach $425 billion by 2026 (in 2020, it was estimated to be worth $318 billion). While we feel offshore outsourcing isn't the best way to reach remote talent, companies in LatAm like Globant, Wizeline, and BairesDev have been doing it successfully for years.
We can collectively say "Thanks" to outsourcing companies for hiring and nurturing trainees and engineers of all seniority. They also play an active role in improving school and university curriculums to accustom graduates to modern workflows. In addition, outsourcing companies strive to help employees improve their skills, be it tech skills or soft skills.
To sum things up, the outsourcing market is growing, and outsourcing companies in LatAm are taking strides to stay up-to-date with the times to retain employees and give back to the community.
#5 English knowledge
Outsourcing companies are big on English. Nine times out of ten, they offer free English classes with native speakers, and work with English-speaking clients. So English is part of the required job skills.
Plus, software engineers are incentivized to improve their English skills with pay raises, so it's a win-win for everyone. And from our experience, the majority of Senior software engineers in LatAm are fluent in English.
#6 Faster deliverables
Another major advantage is speed to market.
Just think: if you can hire and onboard the right people from outside your smaller talent pool, you can build out products faster for cheaper. For example, you could hire engineers from Argentina and save 2-3x what you'd be paying engineers in the US, UK, Australia, and elsewhere. And by freeing up capital, you can get even faster deliverables by hiring additional workers or investing that money into new features and products.
On the flip side, what happens when you want to deliver features or products faster but can't? Well, your competition could take a chunk of your market share, and your customers could just leave.
#7 Enterprise-ready Senior software engineers
From conversations with seasoned IT experts, we learned that major corporations like IBM and Microsoft used to recruit entire graduating classes to work in local LatAm offices. Today corporations fight with outsourcing companies and startups to hire the best talent.
The point is, many candidates looking for jobs have enterprise-level experience, whether it's working in an enterprise or for an enterprise-level project. And that reflects in the quality of their code and decisions, soft skills, and understanding of how businesses operate.
Hiring Developers Is Not That Scary: 5 Step Guide to Connecting With Skilled Programmers
In the same vein, outsourcing IT to Argentina, Mexico, and the rest of LatAm has had an overall cascading effect on the level of knowledge within the tech industry through knowledge sharing.
#8 Strong IT and tech culture
The best way to illustrate how healthy the IT and tech cultures are is to show what they have accomplished. In 2021, Brazilian startups raised a massive $5.2 billion in investments. Companies like Google, SAP, Salesforce, F5, Fiserv, IBM, Oracle, and startups such as Eventbrite and MURAL invest money into Argentina to scale their teams. Mexico got its first unicorn in 2020 in addition to a record-breaking series A for the Jüsto app.
What's interesting is that fintech is becoming a major staple in LatAm. Due to instability and inflation, tech pioneers are taking it upon themselves to serve the unbanked population, sprouting hundreds of fintech startups. So don't be surprised when you see fintech dominating lists of startups making it big in LatAm.
Compared to 10 years ago, there are currently numerous events, conferences, and meetups in LatAm. Together with recruiting drives in universities and government incentives, the growing popularity of IT is aligning LatAm's tech culture with the rest of the developed world.
#9 Government incentives
Apart from remote working laws passed in 2020, governments in LatAm have historically recognized the importance of IT and outsourcing as two important industries that need support.
For example, Mexico has education and entrepreneurship programs to help young people and entrepreneurs get started. Also, since signing a trilateral agreement with the US and Canada, Mexico has allowed software engineers to relocate to the US under a special visa (for more info, read about the TN visa here).
That being said, if you want to be fully compliant, there are questions you need to ask. Specifically, are there any tax write-offs for someone hiring in a particular country, and will it require registering your company in that country? At Bridge, we understand compliance is important to you, so we offer legal and compliance services that cover those questions.
#10 Barbecues…ahem…meetings with the team in person
Did you know that 3 out of 10 of the world's best barbecue styles originate in LatAm? Perhaps you've heard of Churrasco? Well, if not, by outsourcing IT to Brazil, you can taste it — by flying out to meet your team. Furthermore, being just a short and cheap flight away from your team means more face-to-face communication (once we're all safe after COVID, obviously) and better collaboration.
Plus, you can invite remote team members to your office/location to help with onsoarcing and as a way to include them in the office culture.
---
Takeaways
At Bridge, the brunt of our effort goes into finding candidates ready to join a team. Not like an outsourced team where they're disconnected from the client and the project itself. We're talking about directly hired software engineers that sign a contract with your company and work as part of your team.
We chose LatAm as a recruiting location because of its proximity to the US, the technical prowess of LatAm software engineers, and the other advantages we listed in this article.
In short, LatAm software engineers have the brains, the skills, and an easy-going nature that makes them perfect team members for any endeavor.
If you're interested in learning more about the opportunity to hire software engineers in Latin America, send us a message!