Did you know the name "Argentina" is derived from the Latin Argentum, which means silver?
Argentina is the homeland of Lionel Messi and the sitting pope, Pope Francis. It's also home to a thriving IT community of over 130,000 software developers and engineers.
We'll show you what the country's about along with reasons why we think it's a good idea to hire software engineers in Argentina.
Vamonos!
Key Facts About Argentina
Argentina is a lovely country with friendly and inviting people. The country shares a close time zone proximity with North America. And since the internet and tech revolution spread from Silicon Valley to the rest of the world, Argentina has kept in step.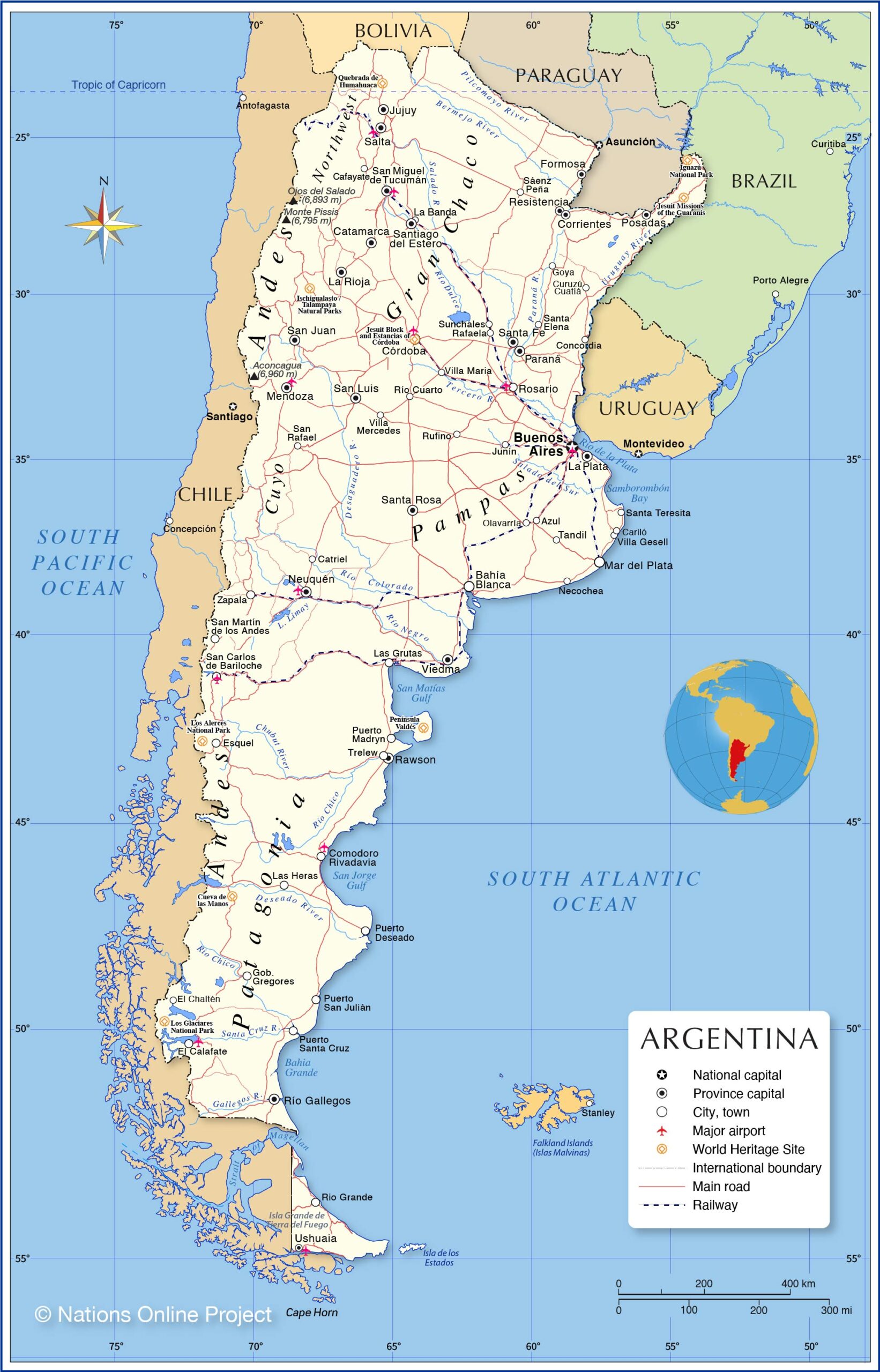 — Big-name companies like Google, SAP, Salesforce, F5, Fiserv, IBM, Oracle, Eventbrite, and many more are looking to hire software engineers in Argentina
— Population: 44,938,712 (2019 estimate)
— GDP (PPP) Total: $1.033 trillion (2019)
— Key tech cities: Buenos Aires, Cordoba, Mendoza, Rosario
— 130k+ tech talent pool
— Software engineer salaries are up to 75% lower than in the US
— Argentina ranks #38 globally among 202 countries, based on the strength of its startup ecosystem
What's the scoop on Argentina?
When researching this topic, we ran across some interesting stats about Argentina. The country ranks "very high" in the Human Development Index, which takes health, education and income into account. Also, the GDP per capita is surprisingly high as well.
Argentina has seen its share of economic problems, and 2020 hasn't been kind to the country. Argentina's poverty rate rose to an unprecedented 40.9% in 2020. As the economy slipped, the government was forced to restructure debt.
Some sectors are struggling to hang on, but tech companies and startups saw growth and plenty of foreign interest. Significant investments were injected into the country, and the startup scene hasn't wavered either.
The Argentine Startup Scene
The top three industries in Argentina are Software and Data, Social & Leisure and Ecommerce & Retail. Startup Blink lists 283 startups from Argentina and Crunchbase has 309 registered startups. It's impressive how many talented software engineers are coming out of the tech landscape in Argentina.
We'll show you Argentine startups that have gained serious traction in the section about Argentine Talent.
First, let's look at who's investing in Argentina.
Who's Investing in Argentina?
Everyone from startups to global corporations is finding the product-oriented talent they need. Examples include Google, SAP, Salesforce, F5, Fiserv, IBM, Oracle, Eventbrite and MURAL.
The good thing for Argentina is that engineers who've worked in those companies gain a level of knowledge that could eventually allow them to start their own businesses. This way, the country could use the fuel from outside investments to help the startup scene fire on all cylinders.
Now, let's look at the Top 4 Reasons to hire software engineers in Argentina.
4 Reasons To Hire a Remote Team in Argentina
As in our post about remote engineers in Ukraine, we focused on the talent driving significant changes in Argentina. Next, we found that salaries were low, even for senior positions. We then looked for government incentives that attract investments. Finally, we zoned in on the time difference that makes Argentina a powerful nearshore resource.
#1: Argentine talent
Argentina has no shortage of talented individuals. But let's face it — qualified engineers are everywhere. The big differentiator is whether those engineers can work in a product-oriented environment.
US Tech Companies That Have R&D Offices in Argentina (Google, Salesforce, IBM and more!)
We know that a big chunk of engineers are in outsourcing — a model where talented experts are often cogs in the wheel. In other words, outsourced engineers don't have the passion for the product and aren't in it wholeheartedly. The solution is to hire engineers directly — on your terms.
What about startups created in Argentina? What's brewing in the startup scene?
Argentinian startups that are making it big
Auth0, the identity security platform for app builders and developers, which an Argentinian co-founded, became "Latin America's Latest Unicorn" after securing a $120M Series F. The company has R&D offices in Buenos Aires and, as of February 2021, is valued at $1.92 billion.
Ualá is a neo-banking fintech app that many Argentinians turned to in 2020. In the first month of quarantine, the company saw a two-fold increase in issued cards. The last funding they received was in late 2019 — $150M in Series C. Ualá launched its neobank in Mexico in the fall of 2020. Promoting financial freedom and literacy is their #1 goal.
Ualá launched its neobank in Mexico in the fall of 2020. Promoting financial freedom and literacy is their #1 goal.
"We started in Argentina because we felt there was a very good blend of regulatory [policies] and team availability that was unique to Argentina." — Pierpaolo Barbieri, CEO of Ualá
Dubbed the Amazon for agriculture, Agrofy raised a $23M Series B in 2020. Said to be "the largest fundraising effort for a Latin American ag-tech startup on record," Agrofy is just one of many Argentinian-born agritech startups. Amazon
Argentinians are also spearheading unique hi-tech satellite solutions. Take Satellogic, for instance — the first company to develop a scalable earth observation platform with the ability to remap the entire planet at a high-resolution. They recently signed an agreement with SpaceX to become SpaceX's preferred provider for launching its constellation of microsatellites.
MercadoLibre, The Amazon of Latin America (LatAm), saw stable growth through 2020 and continues to dominate in the e-commerce space.
#2: Software Engineer Salaries in Argentina
Let's talk about money.
How much does an Argentine engineer make on average?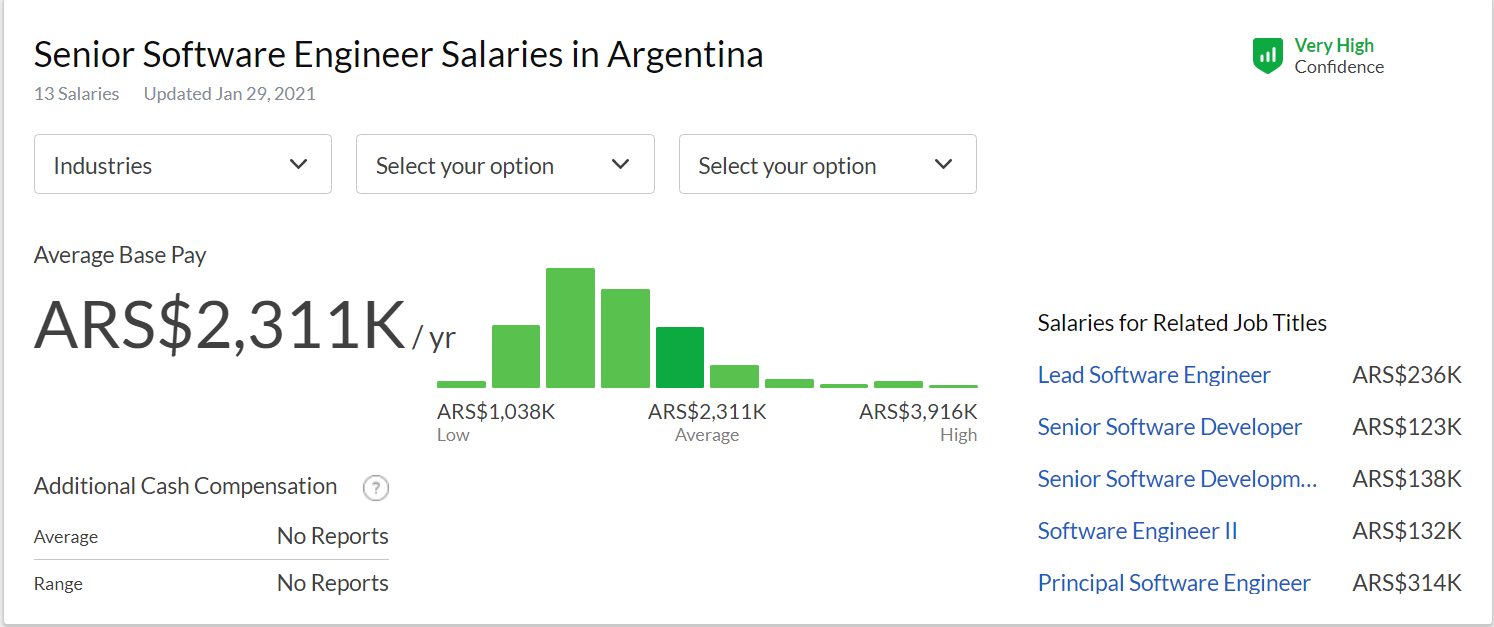 That's in Argentine pesos. The equivalent in USD is $26,379 per year.
Compared to the average salary for a Senior Software Engineer in the US of $125,121 — there's an almost 5x difference. Of course, Glassdoor uses self-reported salaries, which aren't that accurate. We have a budget calculator that uses data from our HR partners — it paints a more realistic picture of the local market. Regardless of the accuracy of the salary figures, it's evident that cost savings are significant.
#3: Government incentives
In recent years, the government has made some favorable and not-so-favorable decisions. We'll start with the (kind of) bad news.
On December 4, 2020, Argentina's Senate approved a novel tax that affects high-net-worth individuals (over USD 2.4 million). The one-time, 2% tax is supposed to raise $4 billion to help with COVID relief costs.
Even Business Insider says this is a good idea, along with other Western media outlets.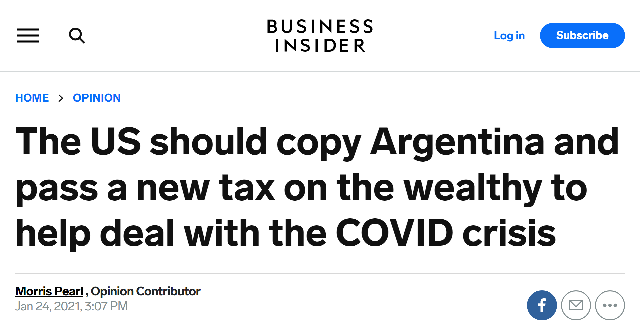 Tax the rich man, good idea? Well, it depends. From what we could gather, there's a strong likelihood that such measures will force wealthy Argentines to scrap their homeland operations and opt for a country with better conditions.
Remote work law
In good news, the government passed a new Remote Work Law, which outlines the rules and regulations to ensure both employees and employers are protected in the workplace.
For example, the law includes set working hours (that are agreed upon beforehand with both parties) and a digital disconnection clause that states employees cannot be penalized for being out of reach outside of working hours. It also dictates the expenses employers have to cover (hardware, software, and related costs). It also gives employees the right to choose whether they want to work on-site or remotely.
We found it odd that this law will only be put into effect 90 days after the country comes out of lockdown.
Entrepreneur law
Argentina's new Entrepreneur Law was passed in 2017. It aims to help get Argentine startups up and running.
These are the main points:
1) Fast company registration and setup
Startups can set up a business via the internet in 24 hours, including bank account, digital books, business entity and tax identification number registration.
2) Public financing
The Fiduciary Fund for the Development of Entrepreneurial Capital will develop finance programs for the Seed Fund (zero-interest loans), incubators, accelerators, and even enterprise capital investment funds.
3) Tax incentives for investors
New incentives for investors include a 75% deductible of any investment in a qualified startup or VC institution for up to 10% of net earnings from that tax year or the amount proportionate to the months since activities began in that tax year.
Any surplus of the tax deduction may be deducted during the following five fiscal years.
Investors who choose to invest in less developed areas with lower access to capital will be able to deduct up to 85%
3) Enable crowdfunding
Companies that wish to raise funding by selling equity or offering convertible notes online via crowdfunding institutions can now do so in Argentina.
#4: Nearshore to North America (max 5-hour time difference)
In our review of Why to Hire a Remote Team in Ukraine, we compared time zones based on the end of a Ukrainian engineer's day. This time, we looked at the difference based on the end of lunch — 2 pm.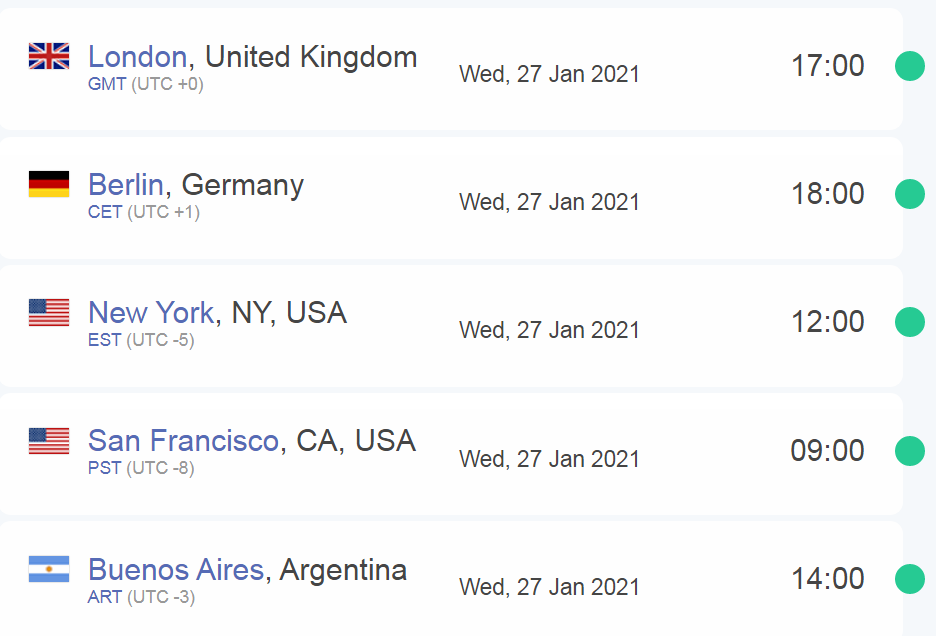 Argentinians may eat dinner a little later than most people in N. America (sometimes as late as 10 pm), but they share a close work culture with N. America and Europe. Luckily, the talent pool is increasing and improving in quality — and this shows in the caliber of companies looking to hire software engineers in Argentina (or for an R&D location).
---
Closing Thoughts – Why You Should Hire Software Engineers in Argentina
Despite going through challenging times (hey, who isn't?), Argentina is moving forward at a decent tick.
Thankfully, legislative efforts (e.g., Entrepreneur and Remote work laws) and a talented pool of engineering experts move the country forward. Investments are continuing to pour in, and US tech companies continue to look for product-minded individuals in Argentina.
Argentine software engineers are a passionate group, a tight-knit community of people that share the desire to make their lives (and their country) a better place. We believe that Argentina's people will break through the dark times with a bright future in tech.