Hire AngularJS Developers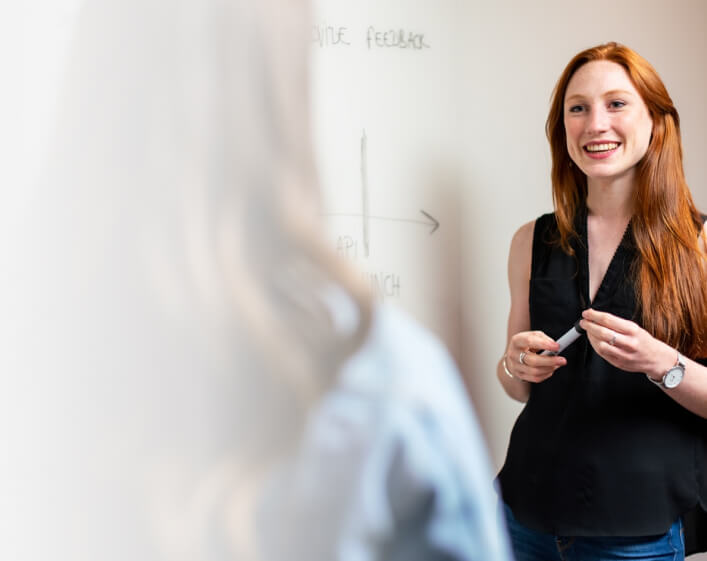 Companies can spend a lot of time looking for AngularJS developers, especially if we're speaking about hiring them abroad. With Bridge, you can get a team of professionals from global markets to work solely on your project and establish your own offshore R&D office.
Have Bridge handle your remote software development office
Compared to hiring software developers from a third party, Bridge gives you the opportunity to decide who you want to see on your team and how you want to work with them. We help you run your remote office, letting you manage it easily with our platform.
Our intuitive platform allows you to hire the best AngularJS developers and manage your business operations with only a few clicks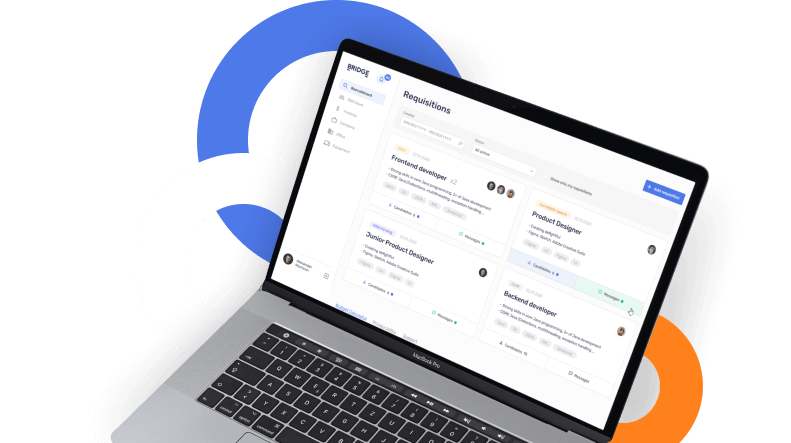 AngularJS developers with the required level of expertise
As a part of your recruitment team, Bridge will find top developers specialized in AngularJS to help you develop a product the way you want to. Just tell us your requirements, and we will start searching right away.
AngularJS web app development
With Bridge, you can get a team of vetted AngularJS developers to create web-based single and multiple page apps with custom interactive features.
AngularJS game development
Recruit AngularJS devs to make cross-browser video games that are based on HTML5 or design cross-platform 2D games using Angular as a base.
AngularJS mobile app development
Employ AngularJS engineers to design bug-free scalable mobile applications for multiple platforms using Ionic framework built on top of AngularJS.
Develop an eCommerce website using AngularJS
Extend your development team and build an ecommerce website using the AngularJS framework for the front-end. Ensure ongoing development for your eCommerce project.
AngularJS skills required to run a successful project
We want to help you to hire top developers specialized in AngularJS. That's why we're always looking for some important characteristics when choosing a candidate for an interview. And if you want to find more about hiring AngularJS developers, click the link below.
Benefits of partnering with Bridge
With Bridge you can get access to global talent pools with thousands of experienced professionals. But hiring is not the only area where we can assist you. Here are some other things we do to make your business operations easy.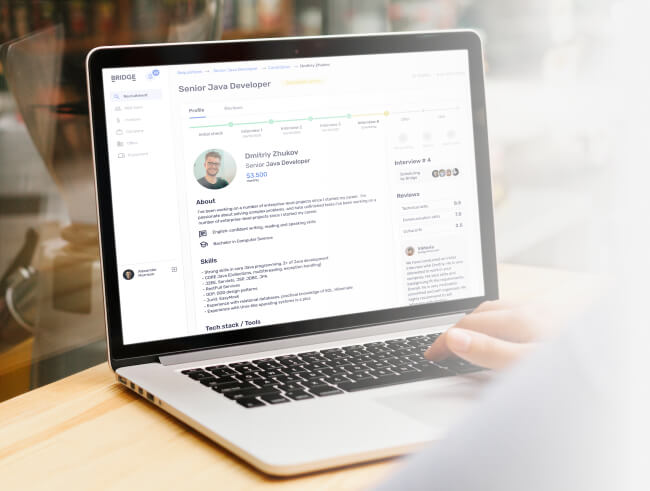 Bridge vs outsourcing Angular developers. What will you gain in the long run?
Instead of opening a remote office, you can get developers from outsourcing vendors. But is it a better option? Here are some benefits to compare Bridge with any outsourcing company.
How much does it cost to build an AngularJS team?
Use our budget calculator to learn the salaries of software engineers in our remote locations.
Check out who else we can help you hire.
Hire mobile app developers
Frequently asked questions
We've gathered a list of frequently asked questions regarding hiring AngularJS developers. If you can't find your questions, please, send us an email and we will be happy to answer it as soon as we can.