Ukraine has been in the news a lot more than usual.
No, we're not just talking about the highly controversial Trump and Biden scandals or the conflict with Russian-backed rebels.
Ukraine has much more to offer — eager, talented individuals who want to break out of the Soviet mold and propel Ukraine into a brighter future.
Let's discover what Ukraine has to offer and why companies like Google, Amazon, Oracle, GitLab, and many others, are hiring remote development teams in Ukraine.
Key Facts About Ukraine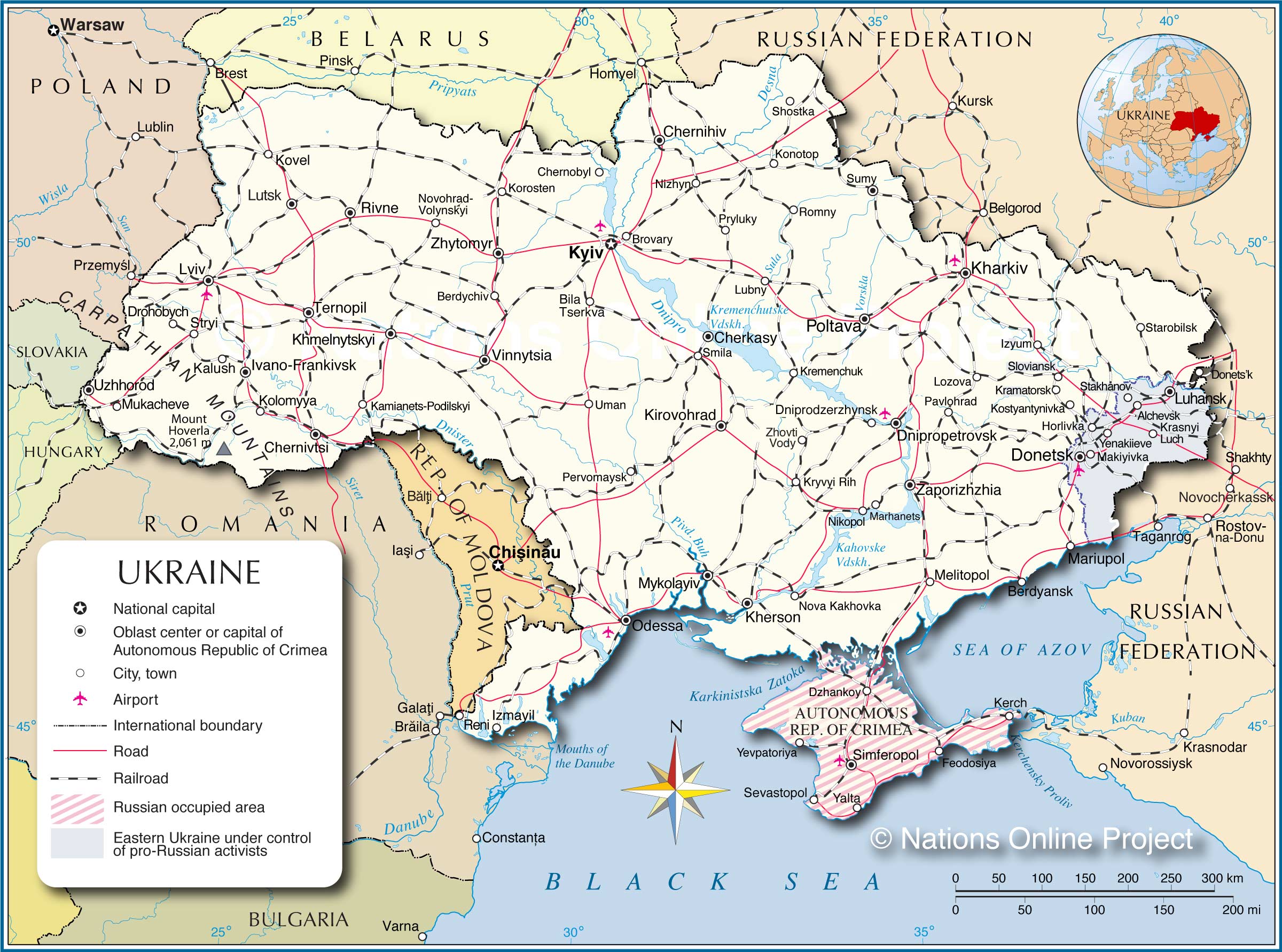 — Gained independence in 1991
— Population: 41,670,812 (excluding Crimea and Sevastopol, November 2020 estimate)
— GDP (PPP) Total: $527.933 billion (2020 estimate)
— Key tech cities: Kyiv, Lviv, Kharkiv, Dnipro, Odesa
— 200k tech talent pool
— Software engineer salaries are up to 75% lower than in the US
— Ukraine ranks #29 globally among 202 countries, based on the strength of its startup ecosystem
4 Reasons Why You Should Hire a Remote Development Team in Ukraine
During the 2020 you-know-what, Ukraine captured our attention with striking news. And this string of news, especially what the Ukrainian government is doing, puts a big smile on our faces.
The country is gearing up for a massive influx of foreign interest, including VCs. It's happening right now, and many companies have already set up remote teams that drive change and disrupt.
The four biggest reasons are: 1) Ukrainian talent; 2) It will become the World's First Virtual Business City; 3) Ukrainians want change; 4) Ukraine is nearshore to Western Europe and a decent overlap with the US.
#1: Ukrainian Talent
The first and most important reason is that Ukraine has talent. Yes, talent is everywhere, and 2020 has shown us this beyond a reasonable doubt. 2020 has also forced us to go remote, and what we learned is — it's possible to manage remote teams, even if they're half-way across the world.
2020 was a rocky period for Ukrainian IT — layoffs, uncertainty and plenty of stress on the community. But, in 2020, we saw Ukrainian born-and-raised startups making it big. Major corporations bought startups with Ukrainian teams, and some startups expanded beyond the border.
Ukrainian Talent in the news in 2020:
Snap Inc. (Snapchat) acquired AI Factory, a company with most of its team based out of Ukraine (70 employees), for $166M.
Reface, the Ukrainian company that created a viral face-swap video app secured $5.5M in December 2020. In case this app doesn't ring a bell, remember this tweet from Elon Musk? The images were made with Reface.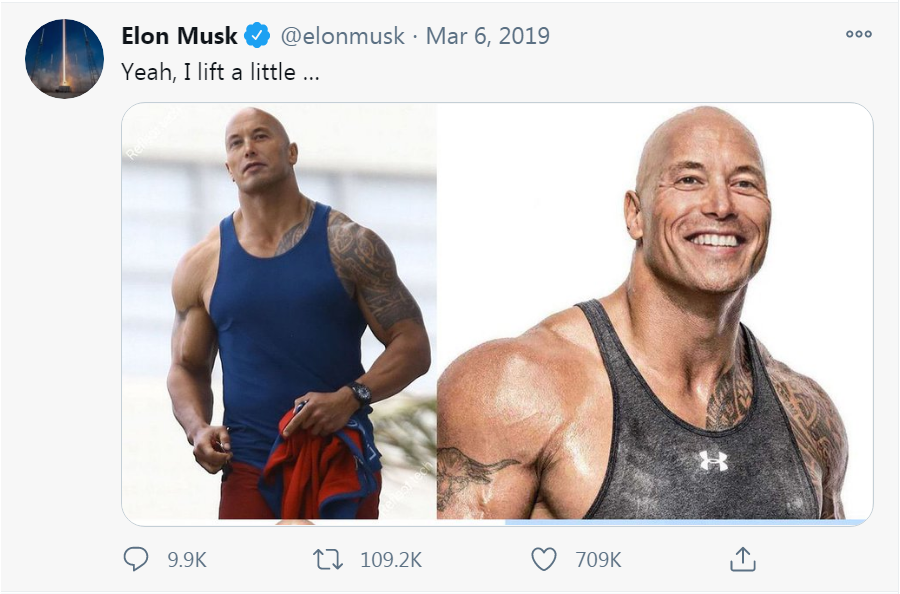 The Ukrainian founders of the 3.1+ million user neobank —  monobank — launched a fintech startup called Koto in the UK.
Google "opened" its first R&D office in Ukraine after acquiring CloudSimple, a cloud migration solution. A large chunk of CloudSimple's team works in the capital, Kyiv.
#2: Government incentives
President Zelenskyi, elected in 2019, has made it a point to protect Ukrainian IT and R&D by pledging government support. Zelenskyi personally promised "no taxes above 5%." Referring to the ultra-low 5% personal income tax.
"The government and IT sector are now working together. We are drafting legislation to support the IT industry. And we assured the IT sector of sustained governmental support…" — President of Ukraine, Volodymyr Zelenskyi.
And one more piece of good news — in October 2020, Microsoft signed a $500M deal with the Ukrainian government that will help Ukraine upskill its workers and assist with developing the country's digital future (using Microsoft Azure and other technologies). This shows that the government is opening up to digital transformation — a welcome sign for investors.
Also, there's something major brewing in Ukraine. In 2020, the government launched Diia City, The World's First Virtual Business City. Read on to find out more.
The World's First Virtual City — Diia City
Zelesnkyi and his Ministry launched Diia City on September 23, 2020. Touted as "The World's First Virtual Business City," it's a special legal framework that will make it easy for startups and established companies to operate on Ukrainian "soil." The launch of Diia City will also allow talented Ukrainians to find the job of their dreams at home, instead of having to move abroad.
Side note: There are some rules for applying. Check them out here.
Diia City "virtual residents" will be permitted to:
Develop and test software, including games
Publish and distribute software, including SaaS
Teach computer literacy, programming, testing and technical support
Create digital marketing and ad campaigns using software developed by Diia City residents
Open and operate R&D centers in IT and Telecom.
The pen is being put to paper as we write this, and Diia City is scheduled to be completed by the end of December 2020.
#3: Ukrainians want change
Ukraine gained independence from the Soviet Union in 1991. The last 29 years have been rough, but in the past 6 years, a lot has begun to shift. The country is boldly shedding its Soviet skin, and more and more people from all walks of life, both young and old, are making changes in Ukraine.
That's exactly what the world needs right now — people that want to be their own superheroes and create change. Ukrainians are showing strong initiative and the results speak for themselves.
The Ukrainian government is also aiding in solidifying relationships with Western countries. In 2017, Ukraine celebrated the first day of visa-free travel to most EU countries, meaning the borders are dissolving both physically and virtually in Ukraine, with 2020's turn to remote.
#4: Nearshore to Western Europe (max 2-hour time difference)
Here's where (and when) Ukraine stands in the time zone game.
Most Ukrainian developers work flexible working hours — usually between 9-10 am and 6-7 pm (1-hour lunch included). So, taking that into account, we looked at what time it will be in Berlin, London, New York and San Francisco at the end of a Ukrainian engineer's average workday — 6:30 pm.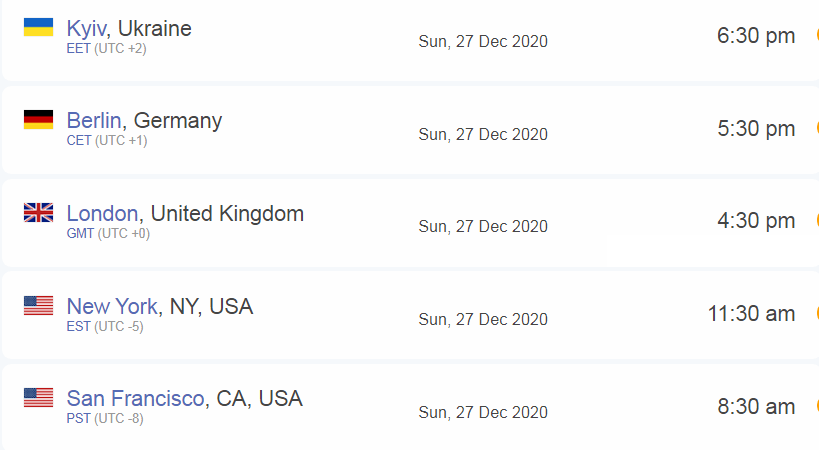 Europe obviously has a bigger overlap, so Ukraine is a big nearshore partner for many European companies. And considering what we mentioned before about visa-free travel, it's easier to collaborate. Companies like Ubisoft, Wargaming and Transferwise are among many European-HQed brands that have already put down roots in Ukraine.
Regardless of the smaller overlap with the US, giants like Google, Snap and Lyft have found a way to make it work. And so have many others.s It's a question of proper project management, and there's no time zone wide enough to keep great remote development teams from working together effectively.
US Tech Companies That Have R&D Offices in Ukraine (Google, Snap, Lyft and more!)
One way to manage a distributed team is to use the Follow the Sun workflow. Theoretically speaking, it's the fastest way to get to market because developers hand off their work to the team in the next time zone — following the sun as they continue their work. Think of it as a relay race.
---
Closing Thoughts
Ukrainian engineers have experience working in fast-paced environments. The country is evolving, and so are its people. More women are going into Computer Science, outsourcing companies are supporting the community with jobs, and the government is taking steps to show Ukrainians that you don't have to move abroad to live a great life.
The tech talent pool in Ukraine is huge, by some estimates, up to 200,000 IT experts. There's no shortage of talented individuals and companies in the US, Western Europe and elsewhere, are taking notice.
Is Ukraine a good location for an R&D office? Yes!