Outsourcing doesn't get much love among the tech communities where it's most common to outsource work — the US, Canada, UK, and EU. If you ask someone in tech what they think of outsourcing, they'll likely say that it's a way of transferring jobs overseas and taking jobs away from the local population. And that's partially true.
CEOs and decision-makers primarily go the outsourcing route to cut costs, but they may be unaware of the pitfalls and risks of outsourcing. Risks include losing control of the project, costing your company money, and potential total failure. Besides potential risks to the project and your business, you may also be risking frustrating your local team and making their jobs harder.
Before discussing the risks, let's first describe an optimal scenario and the benefits of hiring a software outsourcing agency.
What are the benefits of outsourcing?
Based on our experience in IT recruiting, we can say with confidence that if you do decide to go down the outsourcing route, go with a reputable (preferably large) vendor that comes with recommendations and can be vetted. In our opinion, if you do decide to go down the outsourcing route, go with a reputable (preferably large) vendor that comes with recommendations and can be vetted.
If you're lucky enough to find the right vendor, you'll enjoy the following benefits:
Cost savings – offshore outsourcing (which can be both nearshore and farshore) can save your company significant sums of money and speed up the time to market for features and products.
Access to a huge talent pool – since the tech talent gap is still a major issue, finding talent outside of your country can drive innovation and improve the quality of service.
No additional staff – outsourcing vendors handle payroll, taxes, office expenses, and everything else so you and your employees can focus on other things.
Focus on your primary objectives – By outsourcing some part of your company, you can invest the saved time and energy into your core business.
The next logical question is — what can happen when you choose the wrong vendor and what are the associated risks for your business?
What are the risks of outsourcing?
At Bridge, we speak with clients in the US and Europe who have been severely hampered by outsourcing engagements gone wrong. Essentially, what happens is all of the benefits our clients thought they were getting are nowhere to be found. So instead of saving money, outsourcing ends up costing more. Instead of getting access to a large talent pool, you get junior engineers that can barely put two words together. And instead of focusing on their main tasks, business leaders end up frustrated.
Hiring Developers Is Not That Scary: 5 Step Guide to Connecting With Skilled Programmers
We've discovered that the best way to mitigate all of the risks we'll talk about below is to direct-hire remote talent instead of outsourcing it the traditional way through a vendor. For more info, check out how Bridge works here.
A misalignment of expectations & goals
The first risk stems from an inherent misalignment in goals and expectations. Simply put, your goals and the vendor's goals might not be aligned.
Software outsourcing companies serve many clients at the same time, and their goal is to make money. Your goal and vision are to best serve your customers and produce something people need. No vendor or freelancer will have the passion or drive that an employee will. We've seen this time and time again with Bridge clients, and it's one of the reasons we started Bridge is to provide team members that show initiative and a desire to see your product succeed.
Communication issues
Communication is the cornerstone of any business. Companies often have extensive documentation on who to contact regarding certain issues, how to escalate issues, and rules of day-to-day communication.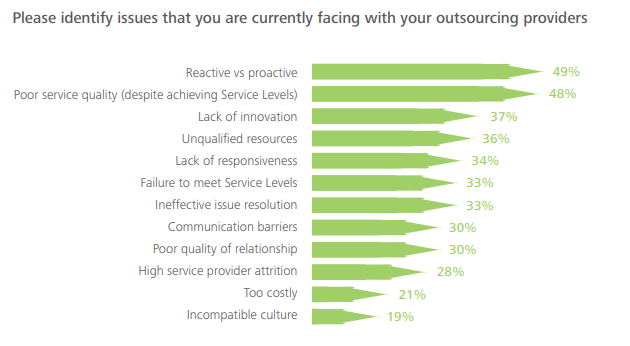 IT outsourcing providers generally aren't communicative. A Deloitte survey found that nearly half of all companies have issues with outsourcing providers being reactive instead of proactive. You can imagine why this is such a major risk to your business. Working with an outsourcing vendor that doesn't communicate regularly, escalate issues, nor handle disputes can spell disaster.
Without having specific communication mechanisms, you start finger-pointing and playing the blame game when the problem arises. That's why you need to ensure that issues will be handled through structured frameworks and resolved within a reasonable timeframe.
How to Run a Remote Team Successfully: Full Guide to Remote Leadership
Also, there's the language barrier problem. Since you may not have the opportunity to interview each outsourced team member, you may get stuck with someone that doesn't know English well enough to communicate effectively. Our recruiting partners vet engineers on tech and soft skills, so you don't have to waste time interviewing unqualified people.
Poor quality of service and lack of innovation
If you take something away from this guide, it should be that outsourced workers are not part of your company. They're not invested in the product you're building, nor are they incentivized to innovate or improve efficiency.
And that's why it's no surprise that poor quality of service and a lack of innovation show up again in the Deloitte survey as the #2 and #3 reasons companies have issues with outsourcing vendors.
Because outsourced developers don't see themselves as your employees, but rather employees of the outsourcing company, they don't see the bigger picture, and they probably don't care much. To create a successful product, you have to eliminate all the unvalidated aspects and find something that users or customers truly want. And to accomplish this, you have to directly hire talented individuals.
"We at Bridge understand how crucial it is for our clients to find like-minded employees to join their teams. That's why we never hire talent on your behalf: we screen for the best talent from local job markets and send their resumes to our clients, making them the final decision-makers on each hire.
Legal, security & privacy concerns
Of all the risks of outsourcing, this is arguably the biggest one.
Do you think a signed contract is fully protecting you? Unfortunately, it might not hold up in court (if it comes to that). To mitigate legal, security, and privacy risks, you have to have a handle on the country's laws. We are able to provide legal and compliance services in many countries.
Hiring a Remote Team Without Breaking The Law: 5-Step Checklist
Another major issue is that in some cases companies neglect to look into intellectual property laws in the country they're outsourcing to as well. It could turn out that the code might legally belong to the person who wrote it in some countries. And we've heard of cases when the code could be legally considered the vendor's property as well. In any case, these are risks that you simply can't afford to take.
In the same vein, another thing to consider is that outsourcing ties you down to an external dependency. What happens when something like COVID occurs and the vendor you're working with goes under? Are you willing to risk your company's financial stability and well-being to save a few bucks? With Bridge, we provide only direct-hire talents to mitigate dependency on a third party.
Damaging your corporate culture
Corporate culture is one of the most important parts of any business. Now, take your in-house team and compare it with the outsourced team you're hiring. Do you have any idea what their culture is like and how it matches up to yours? Well, to save you time, in most cases, they don't match up.
Additionally, by making the choice to outsource, you may be unknowingly causing a rift to form in your company. If your in-house staff has to deal with all of the risks we've talked about previously, just imagine how frustrated they could get. And here comes another hidden cornerstone of outsourced hiring – cultural clash. If you can't walk and talk the same language with your outsourced developers from the beginning, your in-house and outsourced teams end up working against each other.
Hidden costs
There can be significant hidden costs associated with signing a contract with a software outsourcing company. In addition, often, those contracts don't cover every possible scenario, which means there could be additional charges/fees.
Not to mention the hidden costs of not meeting timelines. A missed timeline means you're going over budget, and this can occur for various reasons. For example, the vendor may lie and assign junior or middle engineers instead of senior engineers. Unfortunately, this is a common practice and results in poor code quality, extra expenses to rewrite the code, and money you spend on skills someone doesn't have.
Hiring employees to join your core team is the best solution because it gives you full control and offers transparency. Our clients agree that having all the benefits of outsourcing without the risks is ideal.
---
The Solution
We created Bridge because we were sick and tired of seeing the vast number of offshore outsourcing relationships struggle or completely fail due to a lack of understanding, cultural distance, and other similar issues.
It's time to stop ignoring the truth — the value you expect to get from traditional outsourcing isn't guaranteed. Moreover, the risks of outsourcing IT services to the wrong vendor are too high to take that chance.
At Bridge, our mission is to help tech companies tap into the world's brightest talent pools directly, in a much more transparent, reliable, and affordable manner. We recruit only top-tier talent from countries like Mexico, Ukraine, and Argentina, and with our approach, you hire only the engineers you want to work with, onboard, and ingrain them into your company on your terms.