If you are building a tech product, having a team to help bring your idea to life is crucial. Even if a business owner is quite tech-savvy, building, scaling, and maintaining a product alone is exhausting. That's why, at one point or another, you will need to think about hiring software developers for your team. In this post, we will take a closer look at the worldwide average software developer salary  to help you create a feasible tech department. 
Factors Influencing Average Software Developer Salary
When it comes to software development salaries, the numbers on the opposite side of the cost spectrum are drastically different. On the one hand, a Silicon-Valley-based senior can charge you up to $120,000/yr. On the other hand, you can find a junior from Mexico and pay him as little as $13,500/yr. 
To understand the conventions of the worldwide tech industry, look at the factors that determine the value of a tech team. 
1. Skills
Software engineering is a broad field that includes dozens of technologies and types of products. Naturally, a software developer's median salary will depend on the field they are working in. Here's the example of how the cost of hiring a developer changes depending on the skillset. 
| | |
| --- | --- |
| Skill | Average annual salary (USD/year) |
| DevOps Engineer | $130,000 |
| Embedded Software Developer | $82,000 |
| CRM developer | $77,000 |
| Mobile application development  | $73,000 |
| ERP solution development | $69,000 |
The table above lists the salaries of US-based developers. The data is collected based on PayScale software engineer salary reports (July 2020)
As you can see, the skillset is one of the chief factors that determine the value of a professional in the tech market. To get a precise estimate of a software engineer's annual salary, a business owner needs to have a clear understanding of the skills needed to create a product from scratch. 
2. Experience
Experience is another factor determining the worth of a software developer. Here are the estimates for senior, middle, and entry-level developer salary (data provided by Glassdoor). 
| | |
| --- | --- |
| Level of experience | Average yearly salary |
| Junior software developer | $58,000 |
| Middle software engineer | $77,000 |
| Senior developer  | $107,000 |
Salaries of US-based developers depending on experience level (data provided by Glassdoor)
3. Location
The salaries of software developers with equal levels of tech knowledge can vary depending on where the company is based. Western markets (the US, UK, Canada, EU) pay developers more generously compared to developing economies. 
We will give a detailed breakdown of developer salaries around the world.  To get a brief understanding of how the cost of a tech team varies depending on its location,  check out the table below. 
| | |
| --- | --- |
| US | $77,000 |
| Canada | $53,100 |
| UK | $71,300 |
| Germany | $69,500 |
| Ukraine | $12,000 |
| Mexico | $18,400 |
The data was provided by Glassdoor
4. Dedication
Last but not least, a software developer's salary depends on how much time a professional spends on the project. There are four common occupation types, based on which tech teams hire coders. 
Freelancers are typically hired on a per-project basis and are paid for the amount of work they complete. Hiring a freelance developer is relatively cheap, you can expand your time quickly and pay contractors only for the amount of work they complete.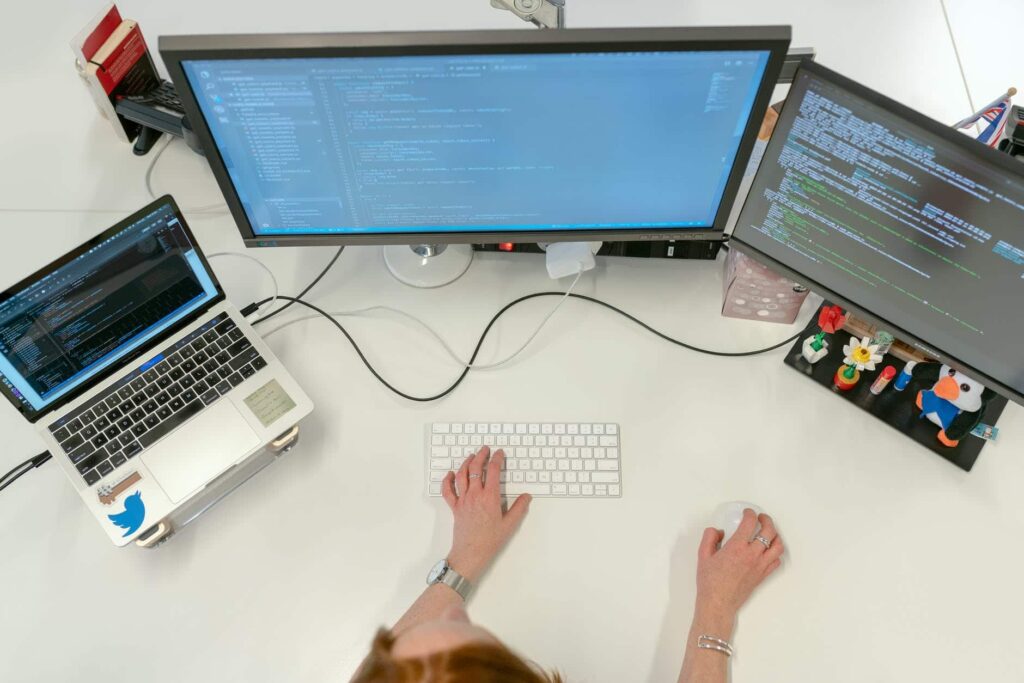 However, the professional might be working on other gigs as well and wouldn't be committed to your project only. Moreover, collaborating with freelancers gives business owners no control over intellectual property ownership. 
Contractors are hired on a per-hour basis. Although they are typically bound by a service agreement and sign an NDA prohibiting them from sharing confidential information, these professionals will not oversee the project long term. As a result, after completing the specified number of assignments, such a developer moves on to working for a different project. 
A full-time software developer works exclusively for one employer. Other than working on code, he will join daily standup meetings, participate in conference calls with project stakeholders, and fully commit to the project.
Full-time professionals are emotionally invested in the project, take their time to understand how their work aligns with business objectives, and the company's vision. Most full-time software engineers get paid annually. 
Naturally, depending on the type of collaboration you choose, the budget required to afford a software developer might vary by thousands of dollars. 
Average Software Developer Salary in the US
If you are based in the US, hiring developers locally to work on your project is the most convenient and familiar option. On the one hand, you will not have to spend time researching the labor legislation of different countries. There will be no tax issues, and sharing a timezone will make collaboration a ton easier.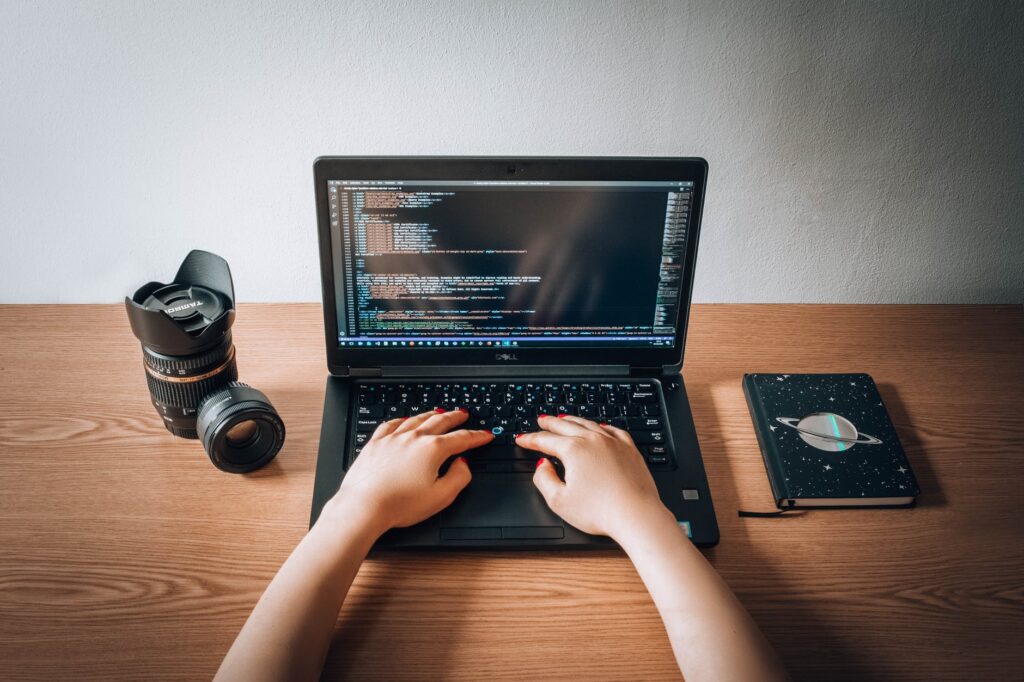 On the other hand, the American software development workforce is known to be highly expensive. According to statistics, there are over 1.3 million software development jobs, and only about 400,000 professionals capable of taking them on. Thus, software developers become highly selective when choosing their next project. They demand a higher average pay for software engineer services and don't work on one project for longer than 1-3 years. 
Let's take a look at the numbers – here's the breakdown of the average developer salaries in states with the highest number of tech openings. 
| | | | |
| --- | --- | --- | --- |
| State | Junior software developer salary | Middle software developer salary | Senior software developer salary |
| California | $77,800 | $130,400 | $197, 470 |
| Florida | $56,900 | $95,900 | $148,900 |
| Texas | $66,400 | $107,000 | $157,400 |
| North Carolina | $63,100 | $102,700 | $154,700 |
| New York | $67,000 | $109,400 | $169,400 |
| Washington | $48,000 | $115,000 | $178,500 |
| Massachusetts | $68,700 | $107,500 | $164,600 |
The data was provided by ZipRecruiter
Average Software Developer Salary in Western Europe
Western European software developers are known for in-depth tech education and high versatility. According to statistics, London, Berlin, and Paris are the largest European tech hubs. The total number of software developers in Europe far exceeds that of American tech talent – the region is at 6.1 million professionals. 
If you choose Western Europe as a talent pool for your next project, how much will you have to pay for gathering a team? Here's the breakdown of salaries in top European tech hubs. 
| | | | |
| --- | --- | --- | --- |
| Country | Junior software developer salary | Middle software developer salary | Senior software developer salary |
| UK | $28,600 | $40,200 | $63,600 |
| Germany | $43,600 | $57,700 | $76,500 |
| France | $36,500 | $48,200 | $68,300 |
| Sweden | $30,200 | $53,100 | $66,000 |
| Netherlands | $35,300 | $53,000 | $76,500 |
| Switzerland | $80,000 | $108,400 | $132,500 |
| Poland | $15,500 | $28,600 | $40,600 |
Software developer salaries in Western Europe – data provided by Glassdoor and PayScale (July 2020)
Average Software Developer Salary in Eastern Europe
In the last 5-7 years, Eastern Europe emerged as a powerful software development destination. Ukraine, Russia, Armenia, and Moldova are promising tech hubs of the region. 
Ukraine, in particular, is a preferred outstaffing destination for many companies due to a high level of technical expertise (there are 402 universities with CS programs, top colleges in Kiev and Lviv train AI and Big Data majors as well). 
Other than that, Ukraine is closer to top technology hubs than other countries, resulting in higher cultural affinity and convenient collaboration. 
Ukrainian software engineers here have a high level of English proficiency, use the same IDEs as their Western colleagues. That's why the collaboration with US-based business owners is quite effortless. 
Let's take a look at the salaries of Eastern European software engineers in Ukraine and other regions of Eastern Europe: 
| | | | |
| --- | --- | --- | --- |
| Country | Junior software developer salary | Middle software developer salary | Senior software developer salary |
| Ukraine | $20,400 | $26,400 | $34,800 |
| Russia | $10,000 | $16,800 | $33,000 |
| Armenia | $6,000 | $13,200 | $24,000 |
| Moldova | $5,500 | $7,300 | $18,000 |
Eastern European developer salaries (data provided by Glassdoor)
Average Software Developer Salary in Latin America
Mexico – 223,400 developers
Argentina – 114,600 developers
Costa Rica – 22,700 developers
Chile – 61,000 developers
Brazil – 45,300 developers
Latin America is another convenient market for creating a tech team. The region's proximity to the US means that the business owner and the development team will share a time zone. 
Latin American developers are easy to work with  – most countries in the region offer bilingual tech courses and groom developers to work with the US-based projects. The long-lasting presence of large multinational tech companies (Oracle, IBM, HP) in the region helped grow the tech market. The workforce here is cheaper than in other regions as well – here's an overview of Latin American software developer salaries. 
| | | | |
| --- | --- | --- | --- |
| Country | Junior software developer salary | Middle software developer salary | Senior software developer salary |
| Mexico | $13,600 | $24,000 | $33,000 |
| Argentina | $8,800 | $16,800 | $26,000 |
| Costa Rica | $6,000 | $26,400 | $34,800 |
| Chile  | $17,100 | $24,720 | $39,600 |
| Brazil | $14,500 | $20.900 | $32,900 |
Average software developer salary in Latin America (data collected by Glassdoor)
Software Technologies With The Highest Average Software Developer Salary
As mentioned above, an IT developer salary has a lot to do with their areas of expertise. To prove how the language an engineer is skilled at influences his paycheck, StackOverflow surveyed over 65,000 tech specialists.
The insights of the study will give tech team managers and business owners an understanding of how much different types of programmers expect to make per year. 
Here's the rundown of the highest-paying programming languages. 
1. Scala
Scala is known as one of the hardest programming languages out there, used for machine learning and big data programming. Since there aren't too many Scala developers around, those who are skilled in the technology are highly picky about their offers. As a result, companies need to go the extra mile to hire a skilled software engineer. 
Other than that, it's worth mentioning that Scala is not the language SMEs owners typically use. It's mostly found in the stack of large-scale products, the owners of which are capable of spending more on tech teams. 
Here are some of the exciting projects that are empowered by Scala:
Netflix relies on Scala for multiple platform components – recommendation engine, search algorithms, and RESTful APIs. 

Tumblr added Scala to its tech stack to ensure scalability and lay the groundwork for Colossus – the company's proprietary framework. 

In addition to investing in

Azure developer salary

, LinkedIn

uses Scala, as the back-end of its Scalatra-backed to support post sharing and the platform's Twitter integration. 

Twitter uses Scala to support large-scale caching. The development team repeatedly praised the platform for flexibility and speed. 

AirBnB used Scala to improve the platform's performance time, facilitate scaling, and improve fault tolerance. 
Average Scala developer salary: 
US: $150.000

Global average: $76,000
2. Go
Similarly to Scala, Golang is another language tech companies use to support their products. Apple, Google, Dropbox, IBM, and Twitter are only a fraction of top-notch corporations relying on technology. 
Having to compete for talent with large-scale companies, business owners go out of their way to lure skilled developers even if that means paying a dime. Go is easier to learn than Scala – however, there aren't that many developers who know how to use the language well. That's why software engineer salaries are higher compared to an entry-level python developer salary. 
Average Go developer salary:
US-based: $140,000

Global: $74,000
As a result, experienced developers have plenty of job offers and get to choose the most lucrative one.
3. Kotlin
Kotlin is a relatively new language created to empower Android apps. By allowing developers to no longer deal with redundant Java features, the technology increases the speed and productivity of application development. 
The language took off impressively fast  – now it has the fastest-growing GitHub page and is considered the official language of app development. 
Kotlin developers are one of the most high-paid tech professionals, according to Stack Overflow. Since Atlassian, Google, and other Silicon Valley giants migrated to the programming language from Java, the salary bar for business owners to meet skyrocketed. 
Average Kotlin developer salary: 
US-based: $130,000

Global: $54,000
4 Tips to Hire and Retain Affordable Software Developers
The American software development market is highly cutthroat. According to statistics, by 2030, the lack of people capable of fitting the needs of a digitized economy will cost businesses up to $8.5 trillion. 
If you are the US or EU-based business owner, you've likely experienced the aftermath of talent shortage firsthand. If time-consuming hiring campaigns, picky candidates, and a high application software developer salary halt your progress in product development, consider implementing the following tips to fill in software developer openings faster. 
1. Hire tech professionals abroad
If you struggle to find talent at home, maybe, it's time to look for skilled software developers elsewhere? The global talent pool isn't as offer-saturated as the American labor market is. Opening a software development HQ abroad is one of the most efficient ways to fight talent shortage – take a look at the number of available tech countries in these promising tech hubs. 
| | |
| --- | --- |
| Country | Number of available developers |
| Ukraine | Over 190,000 |
| Mexico | Over 224,000  |
| Argentina | Over 114,500 |
| India | Over 5.2 million |
Building a team in a country with a wide talent pool is a reliable way to fight talent shortage and bring high-quality products to the market as quickly as possible. To make sure you are well-versed in labor legislation and have no issues when connecting with talent, consider onboarding professionals from Bridge and using our full-cycle foreign talent management system. With this tool, you will have a clear understanding of how much renting an office, paying salaries, and dealing with paperwork costs.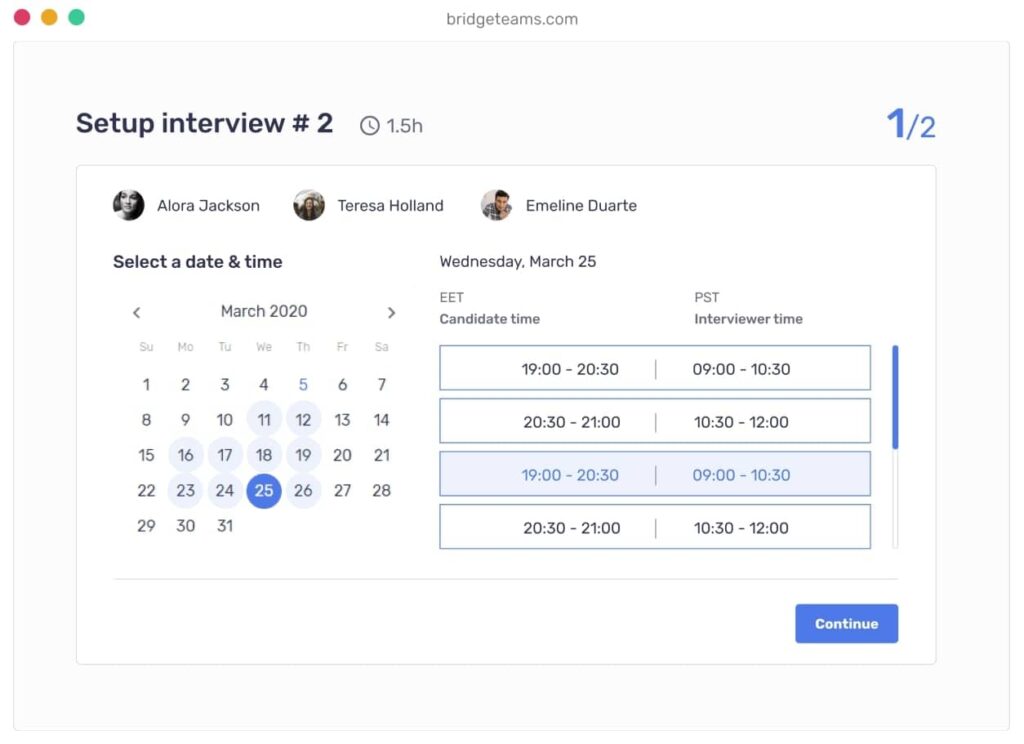 2. Use referral hiring programs
If you want to find a highly skilled professional quickly without having to make a skyrocketing salary offer, a recommendation program within your team is a powerful way to deal with a talent shortage. According to statistics, 88% of top-tier professionals choose offers based on personal recommendations. 
Here are the tips that'll help you start a successful referral program within the team:
Prioritize referred candidates over job board applicants. 

Encourage teammates to refer to professionals both within and outside their skillset. 

Create and explain the reward system in detail – this will motivate your peers to invite more referrals. 

Set referral program KPIs and let your team know about them.
3. Offer a flexible schedule
If there's a force powerful enough to cover for the lack of a lucrative offer, it's hands-down flexible schedule. According to statistics, being in charge of their working hours is so important to employees that 21% are willing to reduce their paycheck or postpone a promotion. 
If you have a limited hiring budget, consider compensating for a top-tier salary with a nonlinear schedule. Allowing people to work whenever they are comfortable (some prefer early hours, others would put in more work at night) will help business owners and talent managers appeal to more candidates. 
4. Offer interesting, stimulating tasks
Last but not least, startup owners who can't lure candidates in with shiny offices and a pack of benefits should consider a different talent acquisition strategy, focusing on giving new hires freedom, stimulating tasks, and room for learning. 
By creating a growth-driven environment, business owners both improve the team's efficiency and get the right to compete with higher-paying employers. 
Here are examples of satisfying tasks for software developers:
Implementing new algorithms and simulations. 

Brainstorming product features and new ways to redesign a low-performing product.

Working on creative products (e.g. game development). 
Conclusion
Given the tech talent shortage, building a team of developers from scratch is not easy. To make sure your offer appeals to skilled software engineers, it's crucial to keep tabs on software developer salary trends. 
If you are a business owner or a CTO aiming to build a sustainable and professional team, consider opening an HQ abroad. At Bridge, we help tech team managers connect with skilled specialists and pay an affordable software or Amazon software developer salary, set up a working environment for the team, and manage foreign talent transparently in our platform.
By creating a remote office with Bridge.teams, SME owners and startup managers can cut talent management costs by thousands of dollars while staying legally compliant and attractive to investors. 
Leave us a message to start building a professional and sustainable team abroad!