Before the 2020 you-know-what, you probably didn't know what WFH was. Now, you see that three-letter acronym everywhere.
Work from home wasn't as big a thing before 2020. Well, at least not in practically every company. The pandemic forced our hand in making remote work work, and it's hard to imagine going back to the in-office, fluorescent world that we grew accustomed to.
Known as remote work, WFH, telecommuting, work from anywhere (WFA), and flexible workplace, the concept of working from home (or elsewhere) didn't truly take off until the 2000s and only very recently became a necessity (no explanation needed).
To understand how remote work evolved and where it's going, we'll first look at where and how it started.
The History of Remote Work
Without too much thought, you can draw out a timeline of how we got to remote work. It wouldn't be wrong to imply that working from your home got started when the first civilizations appeared. But the concept really took off as we learned about science.
And starting in the 1970s, when the term "telecommuting" was invented, a new era began — the computer era.
When PC and mobile phone sales skyrocketed in the 1990s and 2000s, we became open to the possibility of one day creating products (mostly) from home.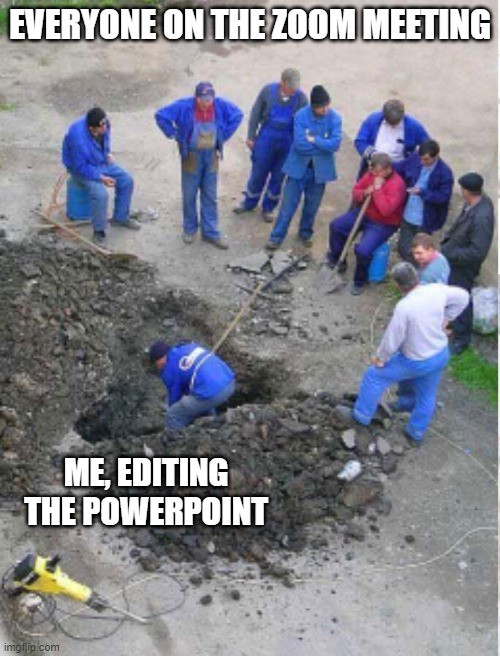 Global digitization, the Internet and exponential technological progress have made it possible to send memes at breakneck speed. Those three things are responsible for allowing the world to go remote. And as we look back after 1+ year of lockdowns and Zoom calls, you instantly have a flashback to mid-March 2020, when hundreds of thousands of companies closed their fluorescent, open-space offices, and within a matter of days/weeks, went remote.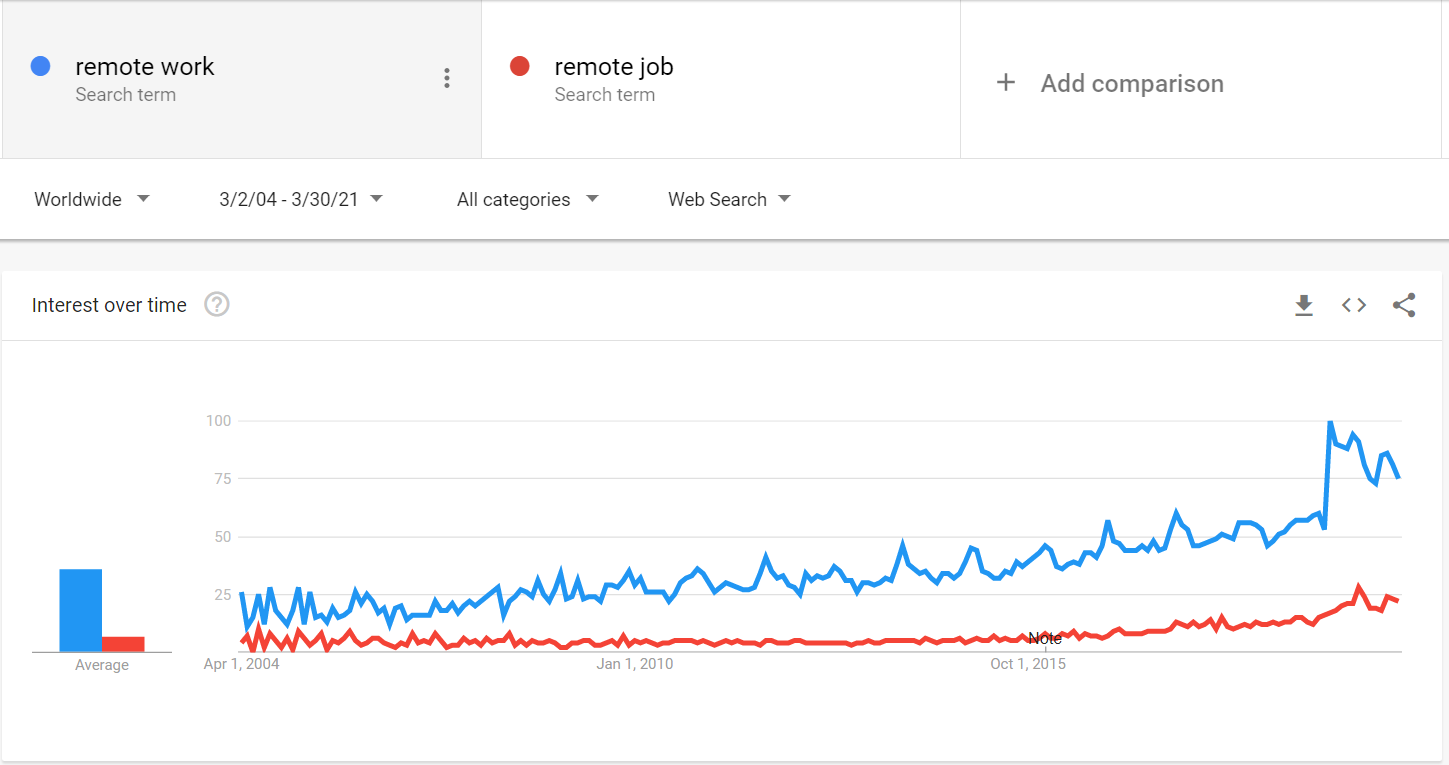 The spikes in searches in 2020 "remote work" and "remote job" are the first thing to catch your attention. We'll go over how the events of 2020 influenced remote work later. But for now, let's focus on the positive trend since the 2000s. It's clear that we were headed in the remote direction, and in 2020, the entire world learned that we could work from home.
The Pandemic Turned out to Be a Blessing and a Curse
Why?
You're well-versed in the "curse" side.
We learned that remote work isn't impossible as many employers (and employees) thought. Being productive at home, with countless distractions, is also possible. And we've all felt that the level of satisfaction with remote work varies over time.
Here's what the digital transformation did for us:
It allowed people to switch careers.
Weeded out employees that haven't been performing for years (we sympathize with everyone who lost their job, but this is a valid point).
Made corporations and companies stop spending money on needless things like cookies, fancy offices, and other stuff.
Helped people stay more focused on the value they bring to companies, their health, and their families and friends' well-being.
Showed us that we don't have to live in an outrageously expensive neighborhood/state/country to have the life we want.
In the next section, we'll go over three lessons we learned from switching to remote work, and after that, we'll give you some tips for how to future-proof your business.
The 3 Most Important Lessons That We've Learned from Switching to Remote Work
As Gary Vaynerchuk said, "Companies where people are happy make sure employees feel like they can grow. That's what matters, not free Cheerios on Tuesday." He said that in 2017, and it turns out, Gary was right, albeit the massive rush to remote created other challenges.
The paradigm shift that accompanied 2020 transformed strictly office-run enterprises into hybrid or remote-first companies.
Here are three lessons we've learned from switching to remote work.
#1 – Remote work isn't impossible as a lot of employers (and employees) thought.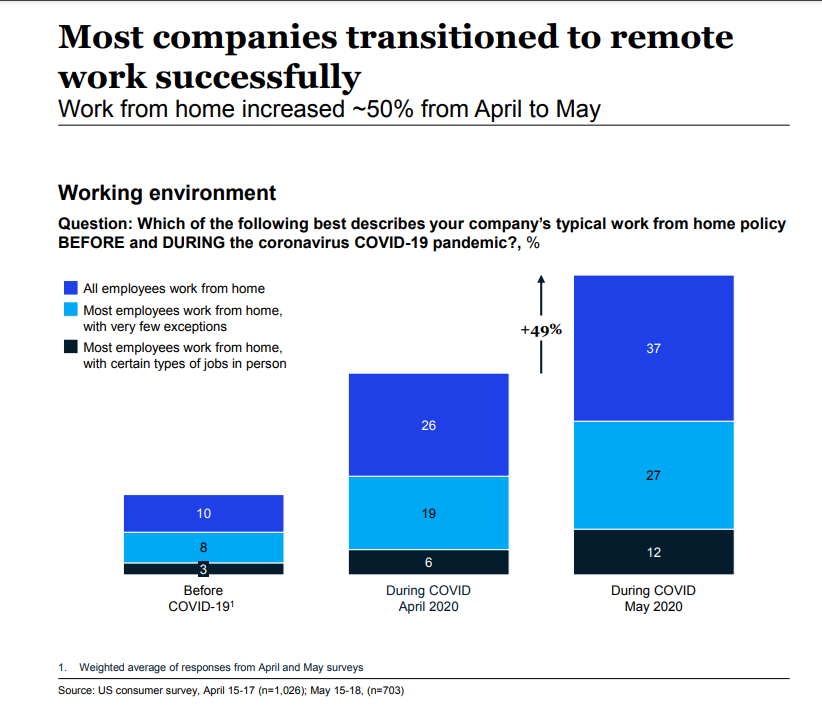 A McKinsey survey found a 49% increase in companies switching to remote work from April to May 2020. Work-from-home used to be a rarity, seen only among a handful of companies. Most thought it was completely impossible. How can you keep track of employees? What about security? What will our bottom line look like?
Well, if COVID-19 has taught us one thing — nothing is impossible. Companies, CEOs, and employees alike were forced to adapt overnight. New processes had to be put in place, new rules, new ways of doing things. It's like if the Renaissance were to happen in a span of a few weeks/months instead of years.
#2 – Being productive at home? Yes, it's possible.
Kids, pets, spouses, noisy neighbors… and about a million other things could be affecting your productivity. A PwC survey asked employers and employees how productivity changed during the pandemic — and the results were surprising.
Roughly one-third of both employers and employees responded that people are less productive.
25% of employers answered that productivity was about the same, compared to 43% of employees.
And the most striking difference was the "more productive" category — 44% of employers compared to 28% of employees.
Perhaps management isn't doing a good job of telling their remote workers they're doing a good job? Or maybe there isn't a useful metric for productivity?
#3 – The level of satisfaction with remote working varies over time.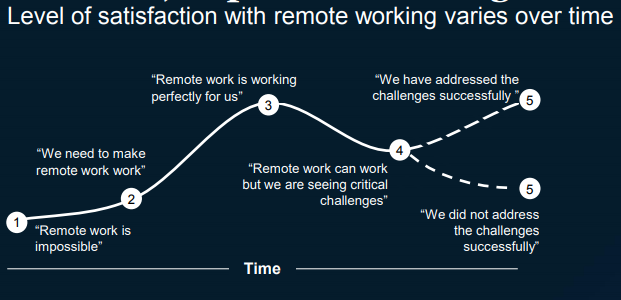 A McKinsey report revealed that although we may think we're remote working gurus, there are still challenges ahead.
As the graph shows, at first, the consensus was that remote work was impossible, then we had no choice but to make it work, and for most — it did. But a few months later (or more, depending on the industry/niche), companies started facing challenges. For example, clashing remote/in-office cultures, management incapable of leading people working from home, an inability to tap into new revenue streams, falling behind competitors, etc.
The line in the sand or has been drawn — you either address the challenges or neglect to do so and suffer the consequences.
So, the question is, how do you prepare for the future, the new, next normal, the recovery phase and beyond?
Action Points: One Giant Remote Working Leap for Mankind
The risk of inaction is very high, but you can convert the challenges that lay ahead into your competitive advantage. Countless companies are already doing it.
Reevaluate people
We can't say that the world became a better place after COVID happened and everyone suddenly became more productive. But what we can say is that an employee's value became much more transparent.
How to Retain Remote Teams: 4 Challenges and Ways to Help Employees Stay at Work
If you judge your employees by the amount of value they bring to the company and not by their presence or the amount of time spent in the office — you get a clearer picture of who the most valuable resources are in your company.
Of course, people need to be trusted to perform their duties without someone looking over their shoulder. But it's management's job to keep track of performance, KPIs and provide feedback regularly.
Reevaluate processes
The digital transformation we saw wasn't just learning how to manage remote teams. It was about completely changing how businesses function.
Agile this, agile that, but look at the evidence — companies that moved with greater speed (in decision-making, adaptation, finding new revenue channels) significantly outperformed those that didn't.
Those agile companies shoved bureaucracy aside in favor of breaking down processes and moving faster. By doing this, they naturally took on work and tasks that favored growth. When you cut out the middlemen, you're left with go-getters, doers and it doesn't matter where they work — virtual or physical.
Again, there still may be challenges, even with an agile approach. For example, what about virtual onboarding and recruiting? Do you have processes for that? That could become a chokepoint if you want to scale. So, it's really about evaluating every process, no matter how big or small, and quickly deciding on how to best address it.
Embrace new technologies
During the pandemic, video meetings and video conferencing exploded, as did virtual desktops, collaboration tools and dashboards. Cybersecurity became a pain point because personal computers/laptops and an unsecured home internet connection could spell disaster.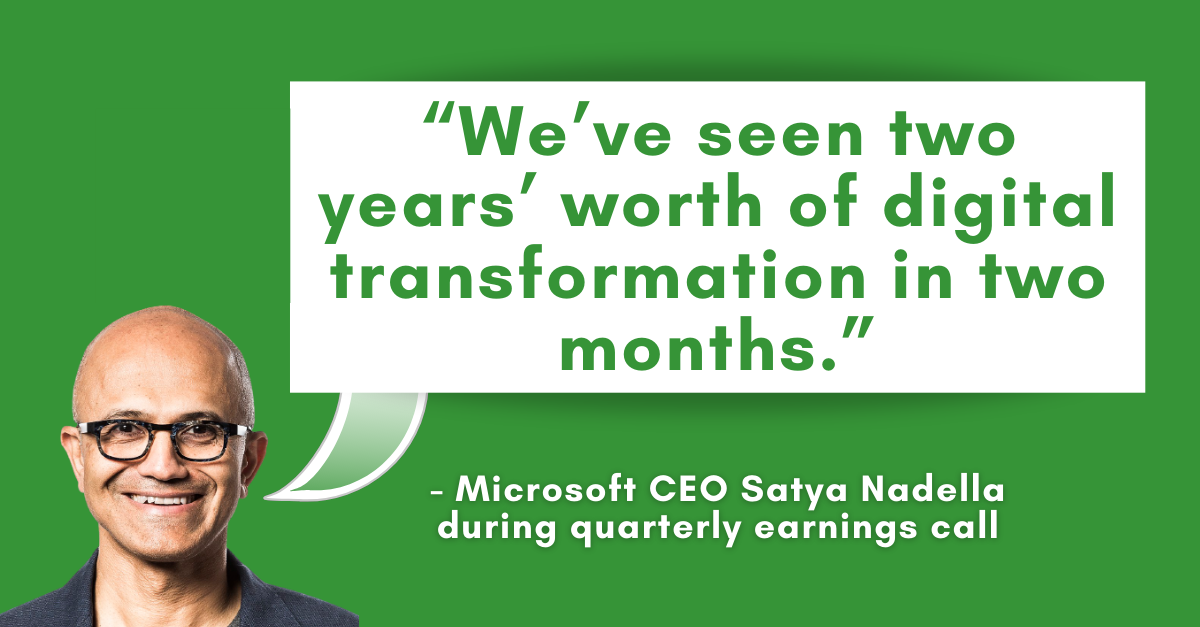 But the technology boom wasn't only internal. Companies had to respond to changing customer needs and expectations. This is a major point I want to get across — when customers demand something, whether it's online purchasing, services, or whatever, you have to provide it…fast. That could mean using new technologies, like AI or IoT, or even Blockchain.
And since we know that consumers looked to new brands and companies during the pandemic, if you can't adapt and create fast enough, you'll lose out in the end.
Rethink offices
You could argue that you need an office because your employees need face-to-face connections, teams can't function properly without serendipitous interactions or the new social distancing guidelines will force your hand in keeping (or even expanding) your current office space.
Or you might be facing some other challenges related to leadership, management or just on an ego trip. Just kidding on the last one, but seriously, you may need to rethink having an expensive office space.
A survey of 100 C-level executives and 1000 employees in Singapore working in companies hiring 500 or more employees uncovered contrasting views.
46% of executives and bosses want to roll back Covid-19 changes such as remote working.
While 91% of employees like the new digital changes such as remote working
3 in 4 employees worry companies put profits and performance ahead of safety (this is a scary one)
87% of employees said technology enabled them to pivot to new ways of working faster than they previously thought possible
So, why is it that employees like remote working so much?
It's because they save time on commuting/traveling, they have a better work-life balance (which means they're likely more productive and happier), and the new technologies they're using make them more efficient.
OK, so offices may not be completely obsolete, but allowing your employees to work at least a few days from home will do them good (and will save you money).
Rethink priorities
No matter what your goal is — be it saving money on development costs, scaling your product with new features, or covering technical debt in your product or backlog — you have to start looking into new possibilities of building a remote extension of your team. Many companies are already using this as a competitive advantage to grow and scale.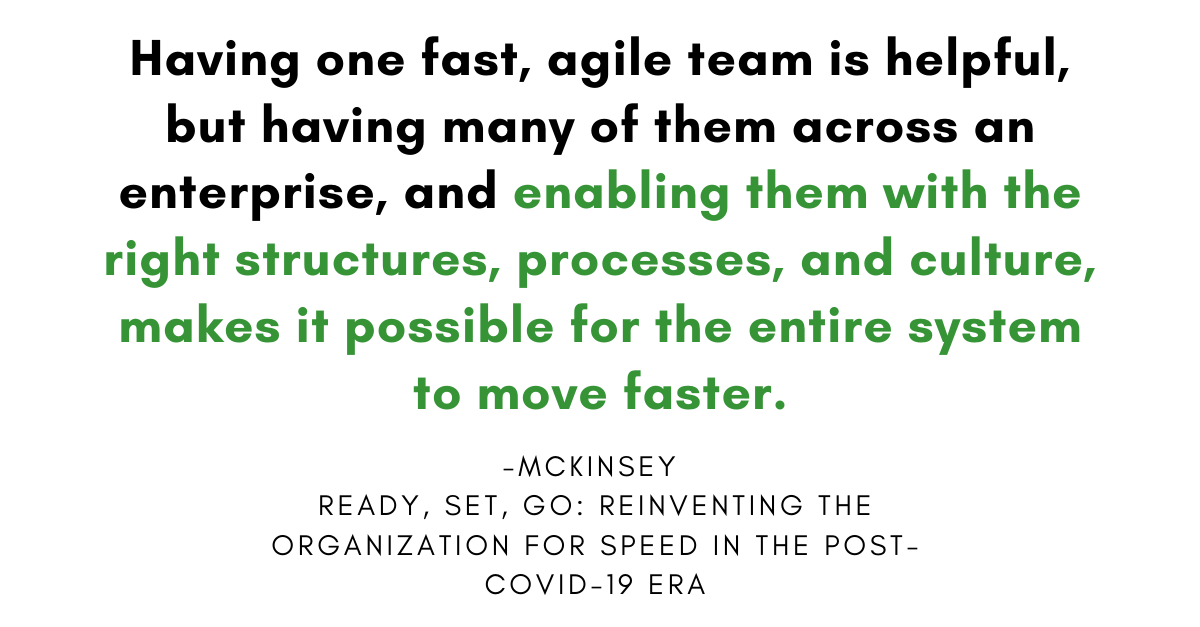 By unleashing, as McKinsey puts it, "nimble, empowered, cross-functional teams," you free up your in-house team from the stresses of carrying a heavy burden — working on your core product while trying to implement something new (integration, feature, product).
"Having one fast, agile team is helpful, but having many of them across an enterprise, and enabling them with the right structures, processes, and culture, makes it possible for the entire system to move faster." — McKinsey.
---
Evolving Remote Work By Involving Remote Engineers
Now that you know how to work remotely (thanks COVID), it might be time to consider hiring remote engineers from outside the US. Our research (see our budget calculator) shows that you can hire 3x faster and focus your attention on other, more important, things.
US Tech Companies That Have R&D Offices in Ukraine (Google, Snap, Lyft and more!)
Many US tech companies have found a different way of accelerating engineering efforts — direct-hiring unicorn engineers from abroad. Through Bridge — you can source and onboard talent, manage your remote team, and do it all without worrying about the red tape and paperwork.